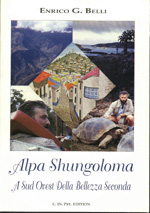 .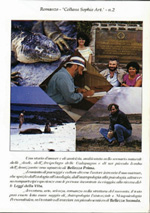 SOPHIA ART SERIES
PSYCHOLOGY - ANTHROPOLOGY
SOPHIANALYSIS - COSMOART
ALPA SHUNGOLOMA
TO THE SOUTH WEST OF THE SECONDARY BEAUTY
of
ENRICO G. BELLI
Romance (1998), 253 pages, size 14x22 cm, €.15,50
A story of love and friendship perceived in the natural scenery of the Andes, the Galapagos Archipelago and a small strip of the Amazon: a gash of Primary Beauty.
In contact with different sceneries and cultures, the author weaves his narration which expands from ethology to ethnology, from anthropology to psychology through shared experiences with the people he has met in his journey : in search of the Principles of Life.
Adventure, Science, Art, a novel with a structured narration, the text could be read as an essay of Existential Anthropology and Self Metapsychology, in the tentative to trace a small path of the Secondary Beauty.
"... There is a lot of difference in the style of writings, as between narration and poetry, but in Alpa Shungoloma, Enrico Belli is a narrator of poetry, who, through art and science, helps to perceive the construction of the Aesthatic Beauty...
Like a sailor, who rich with the colours of the Universe, finds the warmth of his landing (after a long voyage): the primary energy which belongs to us more than anything else because it is that of the infancy, of innocence, of the unconditional faith for the paternal and maternal principle of a human being, that conscious, adult responsibility which draws us to overcome hatred and cross the pain of life to create Beauty... And it is for this reason that Alpa Shungoloma rather than being a literary opera of poetic narration is an anthropological man's journey, who knows to listen to his dreams to construct Beauty, who, with new eyes and hearty emotions, hears the music of natural beings and dances, learning to alleviate the pain..."
(Pino Marano).